Brenda's Master Bedroom
Design is empty without inspiration.  I personally think a designer's job is to listen to clients and bring alive their inspiration in ways they may not have envisioned possible.  I think there is another element here that is not frequently touched on in the design world.  That is letting yourself, as the designer, be truly inspired by the individuals that you are working with. Let their personalities simply be the starting point for creation. For me it is being quiet long enough, to really feel the nature of a person– that you perhaps just met!
That is the case of this master bedroom project that I completed last month. Meet Brenda. Brenda found me through a business card I had placed at City Home.  When I visited her in her home, I was struck with how inspiring and interesting she is as a person.  From her career, to her unique hobbies to the book she wants to write, she is an inspirational figure and gave me a lot of good material to draw from!
Brenda, in the middle of a life transition, was wanting ideas for redoing her master bedroom.  She has a unique style that combines glam, with a little boho and tongue-in-cheek artistic expressions.  She's not into things looking sterile and perfect, she wants a room that has a punch of personality but at the same is a place of calm for her to sleep, read and watch TV.
Here are a a few inspirational photos she sent me.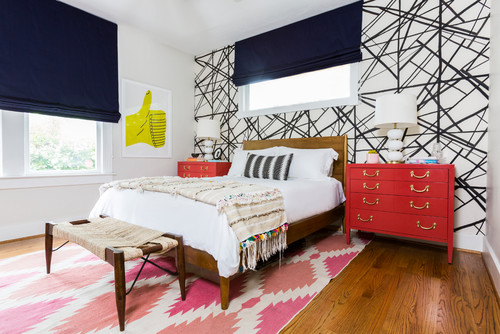 You can see her love for punches of colors, textures and personalities in these photos.
Before the creative elements of my job can start, I start with the "shell" of the space and offer my suggestions for furniture layout, function and flow.
 Here are a few of the recommendations that I offered Brenda for rearranging the furniture and reorganizing the room.  (The wall color is what Brenda calls "townhouse beige" and she couldn't be more spot on! We all know that color well and have seen it repeatedly in the suburbs.  Fear not, paint is the biggest change your room can make and it's also the cheapest).
Next comes the creative work of filling the shell with texture, color and personality.  Here are the two options that I created for Brenda's master bedroom:
There were elements in both of the rooms that really called to Brenda.  She loved the pops of turquoise and teal, the nightstands without storage to reduce the need to clutter surfaces, and the brass/gold accents.
The elements that she was not so sure about were the sleigh bed in option 2 and the headboard material in option 1. She is not into abstract art, and prefers graphic art over the abstract.
With her feedback, I narrowed down her design to the following:
The wallpaper I suggest for her is from my most favorite wallpaper company and they are local–here in Portland Oregon.  They are called
JuJu Papers
and I think we all need a bit of good JuJu in our life.
The wall color I suggest for Brenda is
Portland Gray,
a soft grey with tiny hints of pink, the perfect feminine gray.
To see all of the sources that I recommend for Brenda's master bedroom, here's a little cheat sheet for you.
Brenda is super excited to get the ball rolling on her new bedroom design and I can't wait to see how her own creative and personal flair puts these ideas to action.
What do you think of Brenda's vision for her new room?!